Buy a New 2024 VW Campervan in North Wales

Looking to buy a Buy VW Campervan today? Evans Caravan and Camping Ltd have sold new and used VW Campervans for over 10 years in North Wales to customers all over the UK. These quality VW Campervans are professionally converted and we then sell them from new at Evans Caravan and Camping Ltd.
Buy Used VW Campervans see here
We always have new and used VW T5 and T6 campervans available to buy. Some are very special indeed. Come to Evans Caravan and Camping Ltd today to see why the VW campervan is a firm favorite with couples and families across Wales and England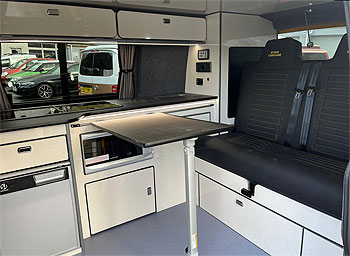 Unique, High Specification campervans, for those who want the best modern and stylish campervan on the market today.

Plenty of space for your free time
Perfectly built for trips to the seaside or a drive into the country, the California 6.1 Beach is a true all-round camper. Compact but with plenty of space to relax, it comes with lots of room for the family, and agile performance on the road