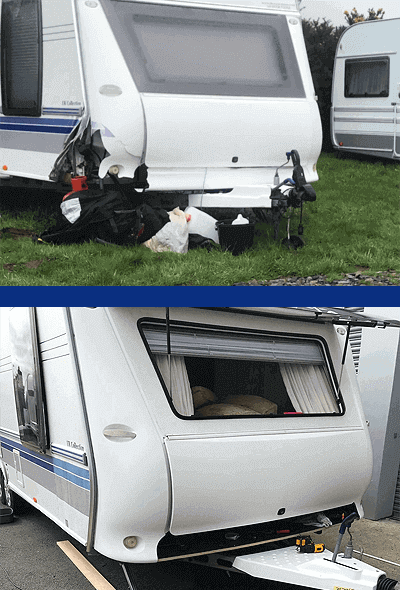 If you are unlucky enough to require any Caravan Accident & Body Repairs then please contact Evans today.
Whether you have scuffed your caravan side panels when parking up and maneuvering, or an awnings caused damage to the caravan's front panels during high winds and storms, we can help as insurance work is undertaken by us.
We also confidenly deal with damp repairs, servicing, panel replacement, entire resprays, delamination, custom interior rebuilds, through to repairing heavy impact damage and all other types of Insurance repairs.
Here is a list of what we most commonly see are the 10 most accident-prone parts of a caravan.
Windows
Side panels
Doors
Roof
Back panels
Front panels
Skylight
Carpets
Worktops
We have a fully equipped onsite body shop where our fully qualified technicians can carry out any type of repair swiftly and easily with no job too big or small, have your caravan looking brand new again. Our experience in dealing with caravan & motor home insurers means that we will make the process of dealing with your accident repairs as straightforward and hassle free as possible.
Cal Evans Today to get your Caravan fixed for next season on Tel: 07810 041 600