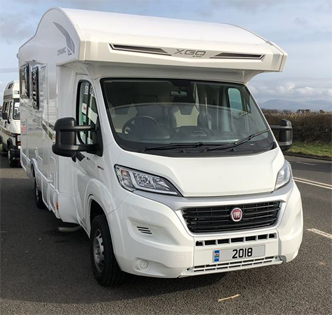 We are UK Dealers for the high-quality Dynamic XGO by Palmo range of Motorhomes that use the excellent Fiat Ducato as its starting point.
We have many models available in our showrooms and can order any model you wish. Give Evans Caravan and Camping Ltd a call today.
The Dynamic 98P Plus has the best garage on any UK motorhome.
In Stock today......
Hi-Spec Motorhome available to order in either left or right hand drive from Evans Caravan and Camping Ltd.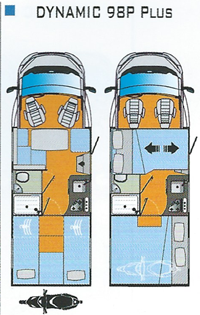 Semi-integrated motorhome with bath and single beds. Ideal for couples or families with up to 6 people. The vehicle offers every imaginable luxury such as a Dometic roof air conditioning system, which ensures a pleasant indoor climate even on hot days. Furthermore, our compact motorhome already has an automatic satellite system with TV, a 3.5m awning, and a navigation device with reversing camera. Through an intermediate door, the rear bedroom and the front living area with 4 additional beds can be separated from each other, thus ensuring a pleasant privacy. In the large and spacious rear garage there is already a camping set consisting of a camping table and chairs and important and useful accessories, such as a water hose, cable drum incl. Required adapter, ramps, fire extinguishers, first aid kit and warning triangle. In the living area you will find a set of dishes, pans, and cutlery set for 4 persons. An assembled bike rack also gives you the opportunity to take 4 bikes with you on trips.