2024 Model LMC Caravans Available from Evans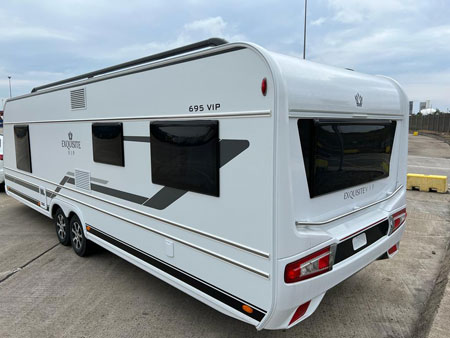 LMC caravans represent German caravan quality & luxury at its best and can be ordered at Evans Caravan and Camping Ltd. We always have a large selection of both new and quality used LMC caravans available to buy
DETAILS OF MODELS COMING SOON.
Looking to buy the latest 2024 LMC Caravan?
Contact Evans Caravan and Camping today to buy your dream LMC caravan.
Tel: 07810 041 600 | Email: This email address is being protected from spambots. You need JavaScript enabled to view it. | Contact / Location
Watch this space as we will be adding the very latest pictures of the 2023 LMC models that you can order NOW in time for Xmas delivery!
The Exquisite VIP LMC 2023
This is our premium model range and has everything on board you might possibly need and more. With an impressive overall length of between 8.43 and 9.57 metres and four layout options, it is a real caravan gem and leaves nothing to be desired in terms of luxury: comfort entrance door, fitted carpet, blinds and high-quality furniture are just some of the highlights. Experience the outstanding spaciousness of the VIP.
VIP LMC
The VIP comes with top of the range appliances – ideal for discerning holidaymakers. As well as individually adjustable slatted bed frames and headboards and a large refrigerator (140 l or 190 l), for example, the VIP also boasts a spacious bathroom and toilet. Truly impressive high-class comfort!
If you currently own an LMC caravan and need it repaired or serviced then give us a call on 01766 819 233 or out of hours 07810 041 600 or via our online contact form. For your convenience, most LMC stock is available at our Chwilog location.

Pandy Garage
Chwilog
Pwllheli
LL53 6SQ